Cow
A tier 1 Cow
Details
Class
Defensive monster
Type
Melee
Bosses
Boss 1
Name
Cow
Tier
1
Boss 2
Name
Bull
Tier
2
Tiers
Tier 1
Cow
Tier 2
Bull
Behavior
The cow swings its knife as an attack, causing a lot of damage. Unlike most other monsters, it has no special attack, but is redeemed in its huge brute strength. It is recommended to use a ranged unit confront them, as they move very slowly and only attack with melee. They can only be found in one of the bonuses, although it's the only enemy in all the waves.
The cow or cowy is very creepy looking. Its attack is very brutal and can kill a Tier 5 Dwarf in a couple hits in the harder levels like wave 18 or19.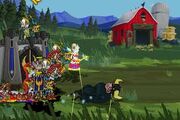 Trivia
There is a Boss in one of the Moonstone Challenges: the Bull.
By possessing the Cows using the Healers attacks or by another form, you can cause the Cow to use it's special.
The special costs 0 SP to use, and is just a normal swing.
Gallery
Community content is available under
CC-BY-SA
unless otherwise noted.